Quantum Marketing Radio Hosts
Quantum Marketing Radio is the #1 Sales & Marketing podcast for the independent life insurance agent and financial advisor.  The show is a monthly podcast with hosts Jeffrey Thompson and Louie Hillman featuring innovators at the forefront of sales and marketing with an emphasis on marketing financial services.  Each episode highlights an engaging expert including top producers to industry thought leaders who delve into practical, applicable sales and marketing concepts, strategies and issues that can dramatically impact your business.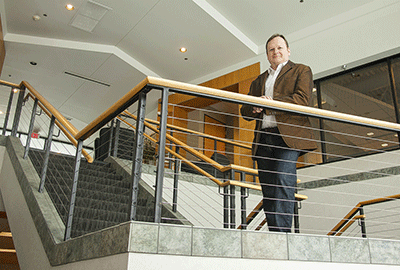 Jeffrey Thompson FLMI, AFSI, ACS, ARA, LTCP, CAS, CSA.
Jeffrey entered the financial services industry in January of 1998, as a field sales trainer and sales manager for insurance giant AIG. He later joined Allianz Life as a wholesaler of annuities, life insurance and long term care insurance working with agents nationwide. He later branched off into the life settlement industry closing nearly $350 million in life settlement cases in just 18 months. He concurrently started his own agency in 2002 as an independent agent and continues to do personal production part time. He is a highly sought after marketing consultant, known by many in the industry as "The Leveraged Marketing Guy" and is the developer of the popular Quantum Marketing System™. The system includes several components: Quantum Marketing University – 2 Day Workshop and Coaching Program, Accelerator – Remote Term Selling System, Authority – Agent Reputation Builder and Quantum Marketing Radio – The Podcast For Insurance Agents and Financial Service Professionals. Quantum Marketing System™ is a synergy of five key pillars including: Achievement Psychology, Joint Ventures, Direct Response Marketing, the Pareto Principle and a proven Sales Process that is aligned with the way people make buying decisions. He was recognized by ECA Marketing for his innovative, creative thinking and contributions as recipient of the 2015 Visionary Award.

Louie Hillman
Louie is an emerging young leader in the life insurance industry. He helped his producers close more than $3M of life commissions in 2015. He is recognized for having a unique ability to find creative solutions on tricky cases. He is also commended for his attention to detail and responsiveness on case questions. Louie is a key advocate for ECA's marketing and sales programs and enjoys connecting his agents with programs that help lead to more meetings, clients and sales. Louie joined the ECA team in 2013 after 6 years in the TV news business. He says the skills he developed as a news reporter and anchor make him a perfect fit for staying on top of new product information, communicating sales ideas, and developing marketing strategies for his producers.